Timeless design with clear lines
This is what distinguishes the Quadra steel shelving system from other shelving systems on the market. Choose from two different design variants both with 30 x 30 mm square tubes – Quadra-F and Quadra-Q. The Quadra-F (F for Flat) has a simpler, more minimalistic design; whereas the Quadra-Q (Q for sQuareholes) has a square design on the frame. Both timeless designs with clear lines!

The Quadra System is related to our Rondea Shelving System in that both systems are compatible with the same function components. Shelves and accessories that fit Quadra shelving will fit Rondea shelving too.

The Quadra steel shelving system is available single- or double-sided and shelves are available in both steel and wood. The versatility of this system lies in the fact that several functional options can be incorporated to create an individualized shelving system that fits the requirements of your specific library. Use the technical specifications to construct the shelving system of your choice.

The design of the shelving system, with its 25mm grid module, allows for easy assembly and adjustment without the use of specific tools. Both the Quadra-Q and Quadra-F variants are available with castors. These wheels are appropriate for both soft and hard floors and allow for optimal flexibility when using the space for events.

The Quadra Steel Shelving system can be delivered in a wide range of colours.
Read more...
Certifications
Metal parts are lacquered according to DIN 50942 with a particularly resistant, environmentally friendly, stove-enamel powder coating. Most of the metal fittings are chrome-plated and therefore have long-term corrosion protection. Wooden surfaces have an environmentally friendly lacquering or plastic coating.
| | |
| --- | --- |
| Material | powder coated steel |
| Construction | steel frame - square tube |
| Connection element | back frame, cross brace |
| Panels | perforated steel end panel |
| Module depth mm | 250, 300 |
| Module width mm | 500, 750, 900, 1000 |
| Module height mm | 1100, 1500, 1750, 2050 |
Add product to favourites to collect for a quote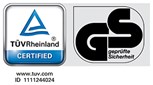 Accessories for Quadra Shelving
This product appears in the following references