Welcome to the Zoo zone!
Storage solution with colourful animal patterns. Place together with your current picture book browers as a complement or use multiple in a children's zone.
Wheel basket with reinforced sides and with wooden base.
Read more...
The hard fiberboard products are made from recycled paper, as cardboard an newspaper which means that you can contribute to protecting the environment by choosing it. We only use water based paint and lacquer in this products. The material itself is well tested an is suitable for all kinds of storage
| | |
| --- | --- |
| Width | 295 mm |
| Depth | 375 mm |
| Height | 340 mm |
| Material | fibreboard |
Item no.: E1928 / 1 pc
Contact Us
We are here to help you...
Add product to favourites to collect for a quote
Accessories for Zoofia Wheel Basket
Here you will see other products that fit well with the selected product.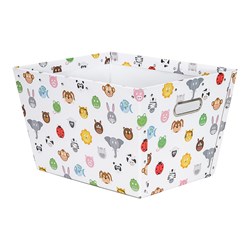 Zoonia Storage box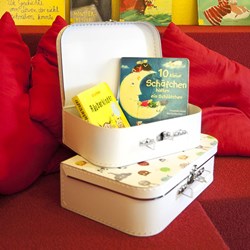 Zoolle Suitcases
2 pcs
This product appears in the following references