Our services
With strong project management skills in place, we can handle any kind of projects from complementing existing installations to interior design of a new super libraries and community hubs.
Total Solution Provider
With streamlined processes in place, we transform creative ideas into products and concepts; and project plans into unique solutions – all delivered and installed on time and to specification.
We work with libraries, leading architects, designers and other professionals in the development of library design and functionality. We adapt our services to suit your needs, budget and timescales, resulting in inspirational and responsive living, working and playing environments.
We offer unique solutions based on functional and creative interior design, contemporary furniture packages and tailor-made product development.
Through 6 solution-provider stages, we aim to design & deliver the best libraries – always.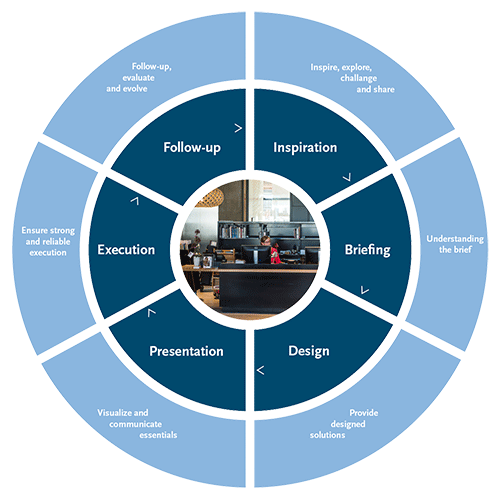 Inspiration
We inspire and attract libraries, architects, designers and contractors through our website, webshop, newsletters, customer cases, testimonials, social media and networking.
Libraries are our passion and we would love to inspire you, challenge your thinking, share our knowledge and explore possibilities with you based on our:
Extensive knowledge of today and tomorrow's library (Interior design, user trends, library activities, library branding, logistics etc.) 
Keen grasp of all library types (public libraries, academic libraries, school libraries, corporate libraries etc.) 
Expertise in understanding and implementing new trends (new furniture categories, colours, materials, graphics, navigation, journey mapping etc.
Considerable international track record on benchmark projects


Briefing
As Total Solution Providers, we aim to provide a complete, turnkey solution. This means delivering services and products that exceed your expectations and fit perfectly and cohesively into your environment. This demands a genuine understanding of your needs, library-user behaviour and the wider social and economic context of the project.
In this stage, a key success factor is to establish and develop a dialogue (written or verbally) between ourselves and you, our client. This will outline the scope of the project, determine the aims and objectives and influence & lead the design stage. The starting point should be the wider view, the bigger picture…
Define the project context and budget (the building, the community, activities, zones, themes, logistics etc.)
Set the team and establish priorities & project planning for the following stage (responsibilities, communication, meetings, workshops etc.)
Understand library-user behavior (vision, library branding etc.)
Idea generation (Knowledge exchanges, brainstorms, idea testing, presentations, visual communication, inspiration tours, research, workshops)
Define and agree on the final scope


Design
During the design stage, it is our aim to meet the essentials of the scope, which was defined and agreed during the briefing stage.
During the design stage, ideas are formalized and turned into space plans, themes, furniture mood boards and finally into price offers. Further consultation with you to test ideas and verify direction may be necessary in order to finalize the following tasks…
Interior design/space planning (selection of furniture and other elements, capacity planning)
Design of special furniture and solutions 
2D/3D interior design plans incl. descriptions of functions, journey mapping, zones, themes, materials, furniture and accessories, colours, surfaces etc. 
Set the team and establish priorities and project planning for the subsequent stages


Presentation
We will present the designed solution which will be in line with our findings and interpretation of the briefing and design stages.
Our aim is to consistently meet and surpass expectations. Our team will present the designed solution. The presentation will be prepared in consideration of the invited stakeholders or the specific tender specifications.
Execution
At this stage, strong and reliable execution is essential to ensure a successful outcome.
Based on the designed solution presented during the previous stage, we will organise the manufacturing, delivery and installation of the project. 
Considering the complexity of the individual project, we will coordinate relevant activities and deadlines with all involved partners and make sure that you are well-informed of the progress and the planned completion of installation. Coordination with you will mainly involve…
Delivery planning (date and time, reception at site etc.)
Installation planning (date and time, who and how)
Post installation meetings may be part of delivering the project (debriefing, quality control)
Follow-up
Now that your new library installation is a reality and the library staff and users are getting familiar with the new space, we recommend a post-installation review to evaluate how essential aspects of the project are working in real life.
Libraries must constantly evolve in form and function in order to develop and influence society for the common good. Intelligent, transformable and functional interior design changes the way people act.
We would like to invest in a long-term relationship with ongoing development of your library.
Our people 
During a project cycle you may meet our sales consultants, interior designers, product developers, customer service people, our installation partners and more. Our professional teams transform your ideas to finished concepts.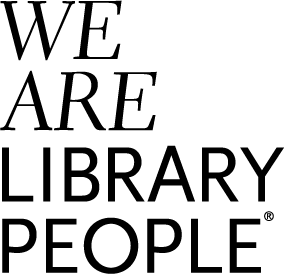 Our partners 
We have strategic partnerships with developers of interactive functionalities, graphics, navigation systems as well as competent transport and installation companies, designers and others. All with the aim to create the best library for its community – always!