Design: Louise Hederström & Dan Jonsson for Eurobib Direct
Magical moments
Kiss the frog and meet your fairytale prince (or princess for that matter).
A decorative and eye-catching front display stand for both fairytale books and books about amphibians and other reptiles.
Can be used both freestanding and wall-mounted.
Read more...
Read the nice little story "The Chicken and the Frog"
One morning a chicken walked into a library. It went up to the desk and said "Book! Book!" The librarian gave the chicken two books, and it left. Half an hour later the chicken returned. Once more it approached the desk and said "Book! Book!" This time the curious librarian followed the chicken. She followed it through the streets to the park. It went into the park and down to the lake. It gave the books to a big fat frog. The frog opened a book and looked at it. Then it said "Read it!" and threw the book into the water.
| | |
| --- | --- |
| Width | 229 mm |
| Depth | 127 mm |
| Height | 311 mm |
| Colour | green |
| Material | powdercoated steel |
| Display depth | 56 mm |
| Other | keyhole attachments |
Colour: green
Item no.: E3502 / 1 pc
Contact Us
We are here to help you...
Add product to favourites to collect for a quote
Accessories for Frog Display Stand
Here you will see other products that fit well with the selected product.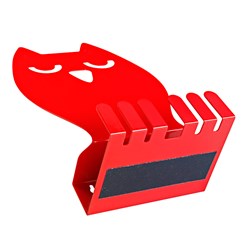 Non-skid Tape